Senior Legal Counsel - game production M/W
Full time
Paris - Île-de-France, France
842 days ago
---
This ad is disabled, so it is no longer possible to apply.
Overview
Job Description


At Ubisoft's Legal Department, we're looking for creative ground-breaking top talent, innovating and disruptive business executive professionals whose area of expertise happens to be legal. Like us, you're passionate about games, about people, about communication, about having a transformative impact in this fast moving ever evolving legal world. You're not afraid to experiment, try and try again until you succeed and always positive. You're mindful, emotionally intelligent, adaptable and a real strategic business partner.
Come join us!
Our Legal team is organized in a centralized structure around business priorities with dedicated legal counsels for each area of expertise. Been embedded across the business units enables us to be tactically focused on the specific needs at stake and to provide the exact attention needed to conduct the companies' business effectively. We are proud of the very strong partnership between the legal team and all Ubisoft's teams which we strive at perpetuating and enriching every day.
As Senior Legal Counsel based in Paris in the Game Production team, you're at the heart of what makes Ubisoft so unique: content. Your days will be filled with in-game content problem solving equations, devious questions which answers are never black or white and have multicultural legal implications. Internationally and culturally diverse professionals from around the world who strive at finding the next innovative breakthrough in game development and player experience will become your best friends and look up to you for disruptive and innovative legal advice breaking the boundaries of any current and future regulations. You are responsible for building the most innovative legal solutions that comply with current regulations in all countries where Ubisoft operates. You work upstream to identify the best strategy, to assess and manage risks and to provide support in implementing such solutions.
Business partner is your motto. Anticipation, your creed.
In this position, you will:
Draft, review and negotiate all sorts of commercial agreements in French and English or American-English, for a variety of third party contractual relationships, including services, licensing, talent agreements;
Provide strategic and practical advice to Ubisoft's production teams, summarizing and communicating legal concepts that production people can use
Be the one to call for any in-game-off-the-wall-content question production teams have and provide tips and tricks for the teams to move forward
Support, accompany and train all creative teams around the globe to give them the best legal reflexes needed to boost their creativity. You will collaborate with other legal counsels around the globe to develop the tools needed for such training
You'll always keep an ear out for any shift in a legal landscape and business developments in the video game industry and other disruptive industries which could impact directly or indirectly production subjects
Ensure conformity with Ubisoft's business needs, policies and risk tolerance
Anticipate and support the continuous improvement of standard form agreements and legal processes
Manage and work closely with specialized outside counsels on any pre-litigation touchy situations
Profile (s) searched for
Qualifications
You are:
Educated: you have a law degree from a French law school (?Master Droit des Affaires ou Propriété Intellectuelle in France), ideally an LLM from a US law school is a plus;
Experienced: Minimum 7 to 10 years related experience, with a focus on intellectual property law, and contract law, preferably in-house. You are comfortable working on various contracts in the software, creative or entertainment field; drafting, negotiating and savvy about IP enforcement matters under different legislations. Game industry experience is a plus;
You're not afraid of project management aspects;
Bilingual English and French, meaning really bilingual, you're at ease switching orally and in writing from one language to the other and can negotiate in Shakespeare's language on the dot. Daily work language is English. Experience in an international environment is a plus.
Emotionally intelligent and curious: you have excellent interpersonal skills with a highly motivated mindset. You have excellent legal and business-friendly judgment and are experienced in building consensus across cross-functional stakeholders. You know how to listen.
Multicultural: you have experience working on multiple different projects simultaneously in a multilingual environment. You're born in a team-work spirit and environment;
Negotiation: you negotiation motto is win win. You keep cool whatever the circumstances. Moving in ambiguous and unknown fields does not scare you.
Last but not least: you're not risk adverse.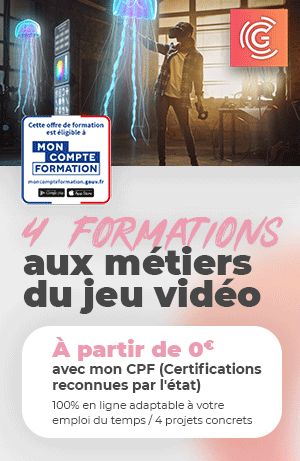 Date of initial publication: 2019-10-03
---