Ux-Ui Designer W - M - Nb H/F
Full time
PARIS, 75000 - Paris
45 days ago
---
This ad is disabled, so it is no longer possible to apply.
Overview

Description de l'entreprise :

Ubisoft's 20, 000 team members, working across more than 30 countries around the world, are bound by a common mission to enrich players' lives with original and memorable gaming experiences. Their commitment and talent have brought to life many acclaimed franchises such as Assassin's Creed, Far Cry, Watch Dogs, Just Dance, Rainbow Six, and many more to come.

Ubisoft is an equal opportunity employer that believes diverse backgrounds and perspectives are key to creating worlds where both players and teams can thrive and express themselves. If you are excited about solving game-changing challenges, cutting edge technologies and pushing the boundaries of entertainment, we invite you to join our journey and help us create the unknown.

Description du poste :

The Ubisoft Strategic Innovation Lab is a think & do tank whose mission is to help Ubisoft anticipate the future by identifying innovations and exploring their potential for the gaming industry. With experts from a wide range of fields, the team analyzes emerging technological, business and societal trends to then develop prototypes and pilot projects in collaboration with internal and external partners.

This foresight research and quick prototyping approach led Ubisoft to BE the first major gaming company to experiment with distributed ledger technologies and to launch a dedicated Blockchain Initiative, to identify the opportunities of decentralization for players, Ubisoft, and the gaming industry at large.

To assist the Blockchain Initiative team in its missions, we are now looking for a UX-UI Designer.

Your main tasks will BE as follows :
- Apply UX methodologies (ethno, persona...) to the conception of prototypes and products.
- Craft the UX journey creating flows, wireframes, and mockups of intuitive user experiences.
- Translate mockups/UI prototypes into reusable components within design system tools (Figma, sketch...) to articulate conception to development.
- Put your creative mind at work to contribute to innovative prototypes and products.
- Share your vision of the future of entertainment.



Profile (s) searched for
Qualifications :

If you are ready to join us and take up this challenge, and if you recognize yourself in the following traits, then GO for IT !

Experience
- You have a solid understanding of user-centered design and UX principles.
- You have an experience in creation of UI prototype and UI across devices (web, mobile, tablet...).
- You have an experience with component-based design tools such as Zeplin, Sketch, Figma, Marvel.
- You have an experience in graphic design tools such as Adobe (XD, Photoshop, Illustrator) or Blender.
- You have an experience in creating original graphic designs e.g. images, sketches and tables.
- You have an experience in designing style standards on fonts, colors and images.
- You have a good knowledge on 3D modeling, animation, motion design is a plus.

Skills
- You are open to explore new frontiers such as Web3, blockchain, and other innovative technology.
- You have a good knowledge of web and mobile environment, and of integration's constraints.
- You are able to work as part of team and have good communication & interpersonal skills.
- You have very good problem solving & troubleshooting skills.
- You pay attention to details.
- You are pro-active and self-motivated.
- You are a fast learner.
- You have good English skills.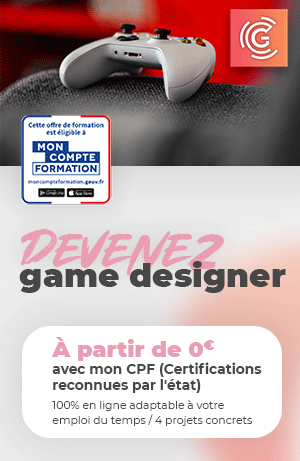 Date of initial publication: 2022-07-21
---
These ads may interest you!