Programmeur·euse Online Senior - Nb H/F
Full time
MONTPELLIER, 34070
106 days ago
---
This ad is disabled, so it is no longer possible to apply.
Overview

Description de l'entreprise :

Leséquipes d'Ubisoft sont animées par leur volonté d'enrichir la vie des joueurs avec des expériences de divertissement originales et mémorables. Elles donnent vie à des mondes, de véritables terrains de jeux où l'imagination peut s'exprimer librement, donnant naissance à des moments de surprise, de fun et d'aventure qui permettent aussi au joueur d'apprendre et se découvrir.

Chez Ubisoft, vous avez l'opportunité de collaborer et d'évoluer avec des équipes passionnées et pionnières dans leur domaine, partout dans le monde. Vous progresserez dans un environnement bienveillant et inspirant dans lequel vous repousserez les limites de l'imaginaire et de la technologie pour créer les mondes qui passionneront nos joueurs.

Ubisoft Montpellier

Fondé en 1994, Ubisoft Montpellier a créé les franchises Rayman, Beyond Good and Evil, Lapins crétins ; a développé les marques Ghost Recon, Assassin's Creed ou Just Dance mais aussi des moteurs de jeux Jade engine, UbiArt Framework, Voyager.

Aujourd'hui, le studio se démarque en développantla suite de BeyondGood and Evil, un projet ambitieux avec un terrain de jeu de la taille d'un système solaire.

Situé à 15 km de la mer et à moins de deux heures de l'Espagne et des premières stations de ski, Montpellier est une ville innovante et audacieuse, reconnue pour ses capacités d'excellence dans les domaines du numérique, de la santé, du sport, de la culture contemporaine et universitaires.

Nous recherchons pour notre studio de Montpellier un(e)Programmeur.euse Online senior H/F/NBpour rejoindre la production deBeyond Good andEvil 2.

Ubisoft teams are driven by their desire to enrich players' lives with original and memorable entertainment experiences. They give life to worlds, real playgrounds where the imagination can express itself freely, giving birth to moments of surprise, fun and adventure that also allow the player to learn and discover himself.

At Ubisoft, you have the opportunity to collaborate and evolve with passionate and pioneering teams, all over the world. You will evolve in a benevolent and inspiring environment in which you will push the limits of imagination and technology to create the worlds that will fascinate our players.

We are looking for anSenior Online Programmer M/F/NB to join our production teams ofBeyond Good and Evil 2in Ubisoft Montpellier.

Description du poste :

En tant que Programmeur.euse Online H/F vos principales missions seront :
- Développer des fonctionnalités online, des solutions de monitoring et opérationnelles pour les jeux vidéo Ubisoft.
- Être en charge de la création, de l'optimisation et de la maintenance de nos services online, de leur intégration dans les jeux vidéo ainsi que de la création des outils web utilisées dans le développement, le monitoring et l'exploitation live des jeux.
- Interagir avec des profils variés tels que game designers, programmeurs gameplay, live operators ou ingénieurs Devops travaillant dans des studios Ubisoft à l'international.
- Exploiter votre passion vidéo-ludique et votre vision du produit pour identifier des opportunités et des problèmes et vous proposerez des solutions innovantes et performantes.
- Mobiliser vos compétences techniques pour mettre en place des solutions évolutives et fiables qui permettent à des millions de joueurs de vivre la meilleure expérience online possible.
- Faire de la veille technologique et vous évaluerez les technologies internes et externes afin de trouver les meilleures solutions pour votre projet.

As an Online Programmer M/F your missions will BE to :
- Develop online features, monitoring and operation solutions for Ubisoft's video games.
- Create, optimize and maintain online services and integrate them with video games and of build related web tools that are used for the game's development, monitor and live operation.
- Work closely together with Game Designers, Gameplay Programmers, Live Operators and Devops engineers from different sites worldwide in order to develop one of Ubisoft's titles.
- Take advantage of your strong production vision to identify issues and suggest innovative and powerful solutions.
- Leverage your tech skills to build scalable and reliable solutions which offer the best experience for millions of players.
- Stay up to date with the latest advances in your field and you will evaluate internal or external technologies to find the best fit for your project.





Profile (s) searched for
Qualifications :

- Expérience de minimum 8ans en programmation, de préférence en tant que développeur de services online ou full stack web.
- Expérience de développement de services online dansun langage moderne (C#.Net Core, Golang, JavaScript /Node.JSetc).
- Expérience en développement des APIs REST.
- Connaissances des bases de données de type SQL et/ou NoSQL (MySQL, MongoDB, Redis ou similaires).
- Connaissance de C++.
- Expérience de travail avec les principaux clouds publics (Google Cloud, AWS, OpenStack, Azure etc.) souhaitée.
- Connaissances de logiciels de gestion de versions (Git), d'intégration continue (Gitlab), d'automatisation et philosophie Devops (Docker, Kubernetes) souhaitées.
- Expérience dans le développement des services haute performance et haute disponibilité.
- Expérience avec les moteurs et outils utilisées en production de jeu, Unreal Engine, Unity, ou autre solution propriétaire, souhaitée.
Autres compétences :
- Bonne capacité à comprendre, analyser et restituer les besoins utilisateurs.
- Fort intérêt pour les problématiques d'ergonomie et d'expérience utilisateur.
- Bon esprit d'équipe.
- Bon niveau d'anglais professionnel, écrit et oral.
- Excellente communication (technique et non technique).
- Bonne organisation et autonomie dans son travail.
- -.
- Minimum 8years' professional programming experiencepreferably as an online service of full stack web developer is required.
- Expertise in at least one modern language used for online service (C#.Net Core, Golang, JavaScript/Node.JS etc) is required.
- Experience in the development REST APIs is required.
- Knowledge of database programming with SQL and/or NoSQL databases (MySQL, MongoDB, Redis or similar) is required.
- Working knowledge of C++ is required.
- Experience working with cloud providers (Google Cloud, AWS, OpenStack, Azure etc.) is a plus.
- Knowledge of version control (Git), CI/CD (Gitlab), automation and Devops oriented technologies (Docker, Kubernetes) is a plus.
- Development experience of high performance and high availability services is a plus.
- Experience with engines or production tools : Unreal Engine, Unity, other.

General and soft skills :
- Ability to understand and account for user needs.
- Strong interest in ergonomics and user experience.
- Excellent ability to work effectively within a team.
- Fluent in professional, written and spoken English.
- Good communication skills, both technical and non-technical.
- Strong organizational skills and able to work independently.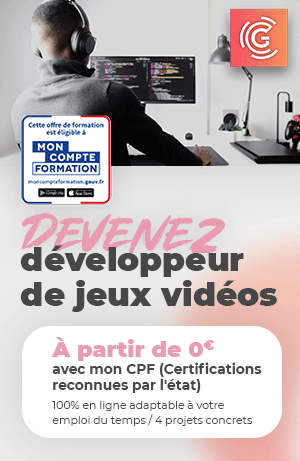 Date of initial publication: 2022-05-02
---