Montpellier Gaming Academy
training
Montpellier - Hérault, France
1616 days ago
---
This ad is disabled, so it is no longer possible to apply.
Period
Of September 3, 2018 to June 28, 2019
Overview
La formation standard de la MGA vous propose 10 mois intensifs dans des locaux professionnels avec des coachs de qualités.
Des cours collectifs théoriques tels que le montage vidéo, l'analyse vidéo, la communication, l'anglais ... seront mis à votre disposition ainsi que des cours pratiques sur votre jeu de référence.
Vous serez suivi tout au long de la formation par des coachs au sein de l'école ou lors des tournois à l'exterieur.
Professional Opportunities
La formation a pour but de vous faire franchir un palier dans le monde de l'e-sport et/ou du Gaming.
Dans le monde de l'e-sport vous aurez accès à une formation professionnelle afin de vous faire progresser dans votre pratique personnelle et de vous faire votre propre nom sur l'aspect professionnel.
La MGA à pour but de devenir une pépiniere de jeune talent à disposition de structure professionel de l'e-sport.
Attention ceci ne se résume pas qu'a devenir joueur professionnel car pleins d'autres métiers peuvent s'offrir à vous tels que: coach, commentateur e-sport, streamer, manager, éditeur, community manager...
Si les métiers de l'e-sport ne vous conviennent pas la formation gaming peut vous permettre d'avoir toutes les clés pour devenir streamer confirmé sur toutes les plateformes appropriées: (Youtube, Twitch..)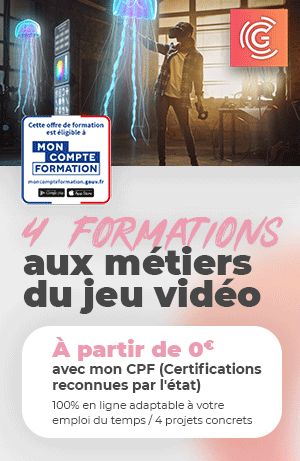 Date of initial publication: 2018-06-07
---