Gameplay Programmer W - M - Nb - D - New Project H/F
Full time
LYON, 69000 - Rhône
219 days ago
---
This ad is disabled, so it is no longer possible to apply.
Overview

Description de l'entreprise :

Play as a team, Race for excellence and Get creative !Chez Ubisoft Ivory Tower, nous sommes animés au quotidien par ces valeurs depuis 2007, rejoignez-nous pour travailler sur notre nouveau projet en tant que :GAMEPLAY PROGRAMMER(F/M/NB/D).

Description du poste :

JOB DESCRIPTION

As a GAMEPLAY PROGRAMMER you will BE in charge of game mechanics & systems development relative to vehicle behavior and driving sensation

MAIN MISSIONS
- Collaborating and communicating with other team members for feature implementation.
- Creating efficient / optimized and reusable game systems.
- Analyze engine existing features & code and extend code when needed.
- Implement vehicle relative developments (Camera / VFX / Audio / Animation / Vehicle.



Profile (s) searched for
Qualifications :

- A first professional experience in C++ programming in the game industry or software development.
- Master's degree in computer science, computer engineering or engineer.
- Solid understanding of modern C++.
- Experience with game engines such as Unreal, Unity3D, etc.
- Rigor, autonomy and team spirit will BE essential.
- You are comfortable working with international profiles in English (spoken, written).
- Snowdrop engine experience would BE a plus.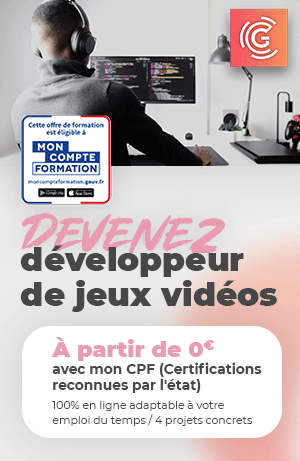 Date of initial publication: 2022-07-21
---
These ads may interest you!