Gameplay Programmer - PC/Console
Full time
Paris - 75009 Paris, France
14 days ago
Overview
Are You Looking For a Fun Place to Work? Join The Game!
Ouvert en 2022, le Studio Gameloft Paris est spécialisé dans la production et le développement de jeux cross-plateformes (PC/Console).
Nous travaillons actuellement sur notre premier titre: un jeu d'action-sport multijoueur!
Role: En tant que Gameplay Programmer, vous êtes responsable de la création et de l'optimisation du code qui se cache derrière notre nouveau jeu!
Vos missions au quotidien:
Imaginer le meilleur gameplay et les meilleures mécaniques de jeu
Implémenter et coder de nouvelles fonctionnalités de gameplay
Développer du code et des tools efficaces, maintenables, fiables et évolutifs
Optimiser la stack existante et l'architecture
Vous serez sous la responsabilité de notre Lead Programmer Rémi, et travaillerez en étroite collaboration avec le reste de l'équipe programming, art et design.
Profile (s) searched for
3 année d'expérience professionnelle minimum en tant que gameplay programmer au sein d'un studio
Expérience solide sur Unity/ C#
Expérience de développement d'un jeu AA ou AAA (PC ou Console)
Bonne compréhension des modèles F2P


Further informations
Pourquoi rejoindre le Studio Paris?
Vous souhaitez faire partie de la création d'un nouveau Studio et faire vos marques dans l'industrie du F2P
Vous êtes à la recherche d'une expérience exceptionnelle, au sein d'une entreprise en croissance permanente
Vous souhaitez travailler avec des gens talentueux venant du monde entier et de tous horizons
Ou vous êtes tout simplement à la recherche d'un environnement de travail dans lequel vous pourrez vous épanouir !
Ce que le Studio vous propose:
Des bureaux situés en plein centre de Paris
Des horaires flexibles et 2 jours de télétravail par semaine
Du temps dédié à la formation toutes les semaines
Des tickets restaurants
Et une couverture mutuelle compétitive

En savoir plus sur Gameloft: https://www.fr.gameloft.com/about-us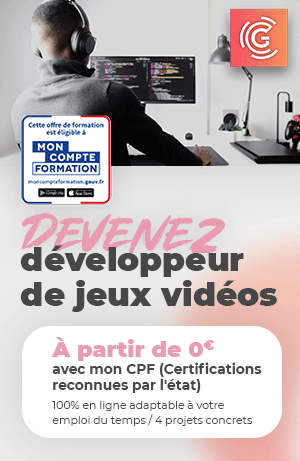 Date of initial publication: 2022-06-14
---