Gameplay Programmer - Nb - New Project H/F
Full time
LYON, 69000 - Rhône
141 days ago
---
This ad is disabled, so it is no longer possible to apply.
Overview

Description de l'entreprise :

Play as a team, Race for excellence and Get creative !
Chez Ubisoft Ivory Tower, nous sommes animés au quotidien par ces valeurs depuis 2007, rejoignez-nous pour travailler sur notre nouveau projet en tant que : GAMEPLAY PROGRAMMERH/F/NB).

Description du poste :

En tant que GAMEPLAY PROGRAMMER, vous serez en charge de la mécanique du jeu et du développement des systèmes relatifs au comportement des véhicules et aux sensations de conduite.

MISSIONS PRINCIPALES :
- Collaborer et communiquer avec les autres membres de l'équipe pour l'implémentation des fonctionnalités.
- Créer des systèmes de jeu efficaces / optimisés et réutilisables.
- Analyser les fonctionnalités et le code existants du moteur et étendre le code si nécessaire.
- Implémenter les développements relatifs aux véhicules (Caméra / VFX / Audio / Animation / Véhicule).



Profile (s) searched for
Qualifications :

- Une première expérience professionnelle en programmation C++ dans l'industrie du jeu ou du développement logiciel.
- Diplômé.ée de l'enseignement supérieuren informatique, génie informatique ou ingénieurie.
- Solide compréhension du C++ moderne.
- Expérience avec les moteurs de jeux tels que Unreal, Unity3D, etc.
- Rigueur, autonomie et esprit d'équipe seront essentiels.
- Vous êtes à l'aise pour travailler avec des profils internationaux en anglais (parlé, écrit).
- Une expérience du moteur Snowdrop serait un plus.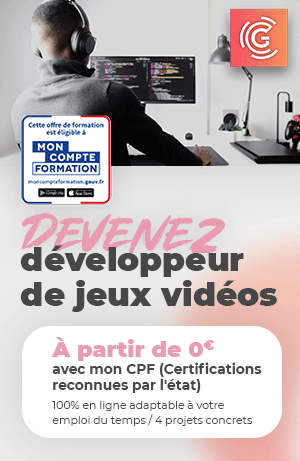 Date of initial publication: 2022-05-10
---