---
This ad is disabled, so it is no longer possible to apply.
Overview
Darewise Entertainment is an upcoming independent games studio with one goal: to revolutionize online games. Based in Paris and led by the creative vision of Viktor Antonov (Valve, Bethesda) and Randy Smith (Looking Glass, EA), we combine international experience and disruptive creativity to deliver the games of tomorrow. We focus on building large scale virtual worlds, where players write their own stories and take fate into their own hands. We create the impossible.
If you dream of pushing the boundaries of online games, then join our international team!
We are looking for an experienced and talented Rendering Programmer for an upcoming MMO game! Our game is a very visual experience which requires both stunningly beautiful graphics and highly scalable solutions.
Profile (s) searched for
Qualifications:
- 3+ years of render programming experience and at least one released AAA PC/console game.
- Very strong C++ skills with excellent software architecture and low level knowledge.
- Expert knowledge of shader programming languages and GPU programming techniques.
- Knowledge of the latest low level graphics API including DirectX, OpenGL and Vulkan.
- Thorough knowledge of 3D math, rendering algorithms and related data structures.
- Appetite for learning and staying ahead of the curve by keeping in touch with cutting edge techniques.
- Passion for making games, self-motivation, driven to creatively solve problems, interest and willingness to participate in all the aspects of game development.
- Positive, collaborative and professional attitude while working under multiple deadlines.
- Strong English and communication skills, comfortable working with non-technical people and remote teams.
- Based in or willing to relocate to Paris, France.
Also nice to have:
- Experience with Unreal Engine 4.
- Cross-platform experience: PC, Linux, Consoles…
- Experience with procedural generation and reusable content.
- Personal interest in MMO games and virtual worlds.
Responsibilities:
- Work closely with technical artists to achieve the desired effects with the highest possible quality
- Build shaders and materials that enable designers and artists to build the game content, with flexibility and reusability in mind
- Ensure good performance of the game client in the highly unpredictable environment of a sandbox MMO game
- Design and implement tools and pipelines for game asset production, ensuring a good user experience
- Take initiative and drive improvement in our tools and methods related to graphics
Further informations
Benefits:
- Competitive salary (based on experience) with stock options.
- Unlimited paid holiday and flexible working hours.
- Relocation package including EU working visa assistance if necessary.
- Benefits package including private health insurance, pension and public transport.
- Unlimited budget for your workspace hardware, software and tools.
- Monthly free games to be up to date with all the latest release.
- Fully stocked fridges and weekly lunches.
- Working within a small, highly motivated team who are passionate to succeed.
- Living in Paris, one of the most iconic and exciting cities in the world.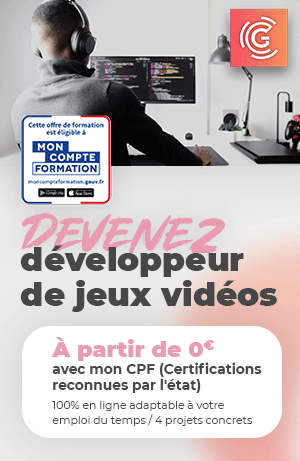 Date of initial publication: 2018-05-03
---
These ads may interest you!