Community Manager - DREAMHACK France / NEEDforSEAT France
Internship
Tours - Indre-et-Loire, France
1052 days ago
---
This ad is disabled, so it is no longer possible to apply.
Overview
À propos de nous :
Créé en 2013, The Preachers est une agence de communication avec un fort accent « gaming ».
Avec une équipe jeune et dynamique, nous créons des solutions de communications novatrices, autour des réseaux sociaux et des nouveaux médias. Au fil des ans, nous avons construit notre propre réseau d'Influenceurs de confiance, ce qui nous a permis d'élaborer des campagnes Youtube ou Twitch adaptées aux besoins de nos clients.
Aujourd'hui nous recherchons un stagiaire pour travailler sur le community management de 2 de nos clients leader sur leur secteur : DREAMHACK France et NEEDforSEAT® France.
Missions :
Mise en œuvre de la stratégie marketing appliquée aux réseaux sociaux
Rédaction et animation de ces réseaux
Analyse du trafic
Création de visuels
Développement des outils marketing
Gestion des avis sur les réseaux sociaux
Profile (s) searched for
Compétences requises :
De formation supérieure (Bac +2 et plus)
Maitrise des logiciels tweetdeck, houtsuite, trello, etc…
Connaissance des logiciels de créa (Photoshop, Illustrator et plus si affinité…)
Maitrise de l'anglais
Le profil :
La soif d'apprendre
Etre créatif, réactif et pro-actif
Une bonne culture web
Idéalement fan d'esport et de jeux vidéos
Further informations
Lors de l'envoi de votre candidature :
Préciser impérativement vos dates de stages
La durée de votre stage
Rémunération :
Stage rémunéré : oui
Durée : minimum 3 à 6 mois – 35H
Début : dès que possible
Lieu : 51 Rue des grand Mortiers – 37700 St-Pierre-dès-Corps
Type d'emploi : Stage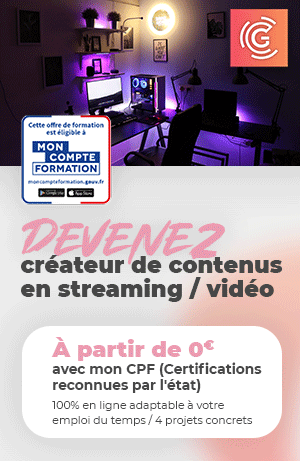 Date of initial publication: 2018-10-08
---